I'm baaaaaaaaaaaaaaaaack! Can I first just tell you all how much I have MISSED you and the blogging community?! I've recently changed jobs (same company) but it has left me with hardly any left over "free time" that I wasn't just ready to shower and crash in the bed!
But, really I have quite a treat for you today. A few weeks ago, I was contacted by Anolee Jewelry and offered to review one of their products. This was honestly one of my favorite reviews to date. The moment I clicked on their website to view their products, I was in love.
I chose to review the EB1007 ETERNITY band for today's post. I fell in love with it's simple, yet timeless look.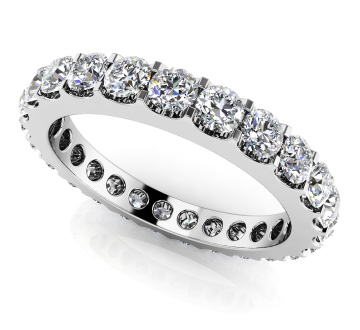 I had been looking for awhile for a simple band to wear on my right hand. This ring has made its self a permanent home and I've received so many compliments.
The ring arrived in a beautiful wooden box with it's on back-light to show off it's beauty.
If you are in the market for a wedding ring set, I encourage you to check out Anjolee jewelry. Please, take a moment and browse their website. I bet you can even find a great Christmas gift!
Thank you, Anjolee, for allowing me to review your product.