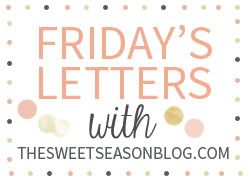 Today is my biiiiiiiiiiiiiiiirthday! As of 4:14 AM this morning, I turned another year older.. Wish you were all here to celebrate with me!
Dear Sickness
, PLEASE be nice to me and GO AWAY. It's my birthday weekend. Let me enjoy it!!
Dear 29th birthday
, I have mixed emotions about you. Although I'm closer to the big 3-0, I think I can handle knowing I'm getting older. (That means my wedding is getting closer!)
Dear cough drops
, you all suck. Period.
Dear B
, thanks for being gentle with me and getting me some medicine!
Dear Ole Miss hoodie
, you are my best friend. I wear you way more than I should, but you are soooo comfy! ;)
Dear weather
, please make up your mind. And let it pick warmer weather with lots of sunshine!
Dear new recliner
, my booty loves you. Just saying! :) Annnnnd, last but not least..
Dear calories
, you DO NOT count during my birthday. Oh and
Dear hot girl
in the bikini on my fridge (for motivation!) you aren't there. I don't see you. I will eat those dang cookies. It's MY birthday!