Hi there lovies! I'm getting this post up late (sorry!) but I actually tried to get some REAL work done today, LOL.
Today I'm joining a new link-up I just found.. Tuesday Topics!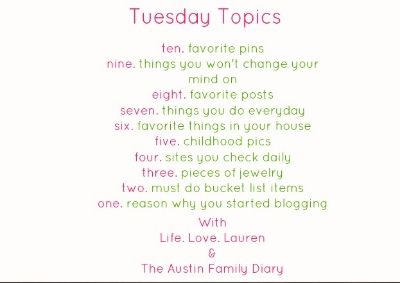 SEVEN THINGS YOU DO EVERY DAY.
1.
I turn off three alarms every single morning. I know.. it's pitaful. It's more of a mental thing for me. I could honestly get up after the first one.
2.
I check blogs, and write one if needed. (Like today.. hehe) Blogging is addictive. I'm sure ya'll can agree. If you don't follow me on Bloglovin,
go do so here
.
Shameless plug!
;)
3.
I drink coffee. My day is entirely screwed up without it. Fact.
4.
Instagram. I love to check it a couple times a day. It's so much more fun to see pictures instead of words.
5.
I use my MayDesigns planner. It's my life in one spot.
6.
I use my Naked2, daily. It's the best eyeshadow I've ever owned.
7.
This one isn't as "fun" as the others, but it makes the list. Yes, I wash clothes every.single.day.of.my.life. Bleh.
What seven things do you do? :)