I cannot stress enough how glad I am that it is Friday. This has been such a long & exhausting week for me and I'm ready to kiss it goodbye.
Update: Mom is doing well. She came home from the hospital yesterday and is saying she is having no major pains. Again, thanks for the many prayers.
Also update: Jenna is feeling better. She went to the doctor, then was sent to the hospital for some bloodwork/chest xray done and they determined it is nothing more than some type of infection, probably ear. They sent her home with some meds and she seemed in better spirits last night.
I'd give you an update on what has been going on, but that's pretty much it. I spent yesterday running like a chicken with it's head cut off. I'm taking care of two households now since Mom is out of commision for 6 weeks. I am not sure I will make it, but hey... I'll try my best! I think this might be dad's training period. In other words, I will show him how to do laundry/dishes/etc. Hence why I WILL NOT have a man that doesn't understand it is just as much his job as my own.. :) [Could be why I'm SINGLE!??!]
Yesterday was Jenna's birthday. I just cannot believe that she is already a big girl. This has been a remarkable year though. So much has happened in our family and I am SO grateful for every bit of it. I think in a lot of ways Jenna is that reason. =)
Well- my plans for the weekend are simple- NOTHING. I will be with Mom of course.. but I might actally find some time to catch up on some of the blogs I read. This week has not been good for that, ha!
Anyway, as always be sure and head over to Lauren's page and play along!
1. My idea of pure perfection would be
living on an island in the Caribbean
.
2.
Respect
makes the world go 'round.
3.
If it weren't for
bills
I'd
travel to all the places on my bucket list
.
4.
Bloggers are
so addictive and creative
.
5.
If I had
loads of useless money
I'd buy you
a house on the island next me, if I like you enough that is ;)
.
6. I'm glad it's Friday because
I don't think I can manage another day this week, working. NEED A BREAK
.
7. Something I'm excited about is
having nothing to do this weekend. That sounds lame
.
Hope you all have a fantastic Friday.. but before I go I want to play along for the first time in another link up. I freakin' love this girl..
and we are moving in together, right? :)
I call her bombshell, but you can refer to her as
Boobies
:)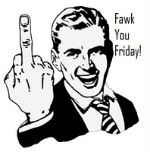 Fawk you Friday to....
Fake "friends"

Ex-boyfriends

Annoying people (I won't get too specific there..)

Heartache

Lack of sleep

Any future annoyance today :)
P.S--I reached 50 followers... that calls for celebration...
Check back next week.. I'm working on a giveaway :)