Please go and link up with
Lauren
for this!!!
1. The most selfless thing I've ever done was
This is a hard one. I don't think I do overly selfless things (that sounded bad) so I'm not sure what to put. I'm not saying I'm selfish either. This was a bomb of an answer.
.
2.
When it comes to working out
I don't participate. And yes, I realize it shows
.
3.
A woman should always
dress her best, even when you don't feel like it
.
4.
I wish I could
find patience to learn to sew
and then I'd
make Jenna all these cute outfits I keep seeing
.
5.
A best friend is
someone who is by your side, even when they are telling you that you are screwing up (thanks girls)
.
6. I can't get enough of
a certain new guy in my life!

.
7. This weekend I am
going to dinner with some former co-workers

.

*****************************************************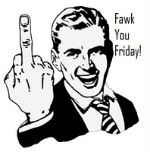 Ya'll knew I'd be linked up with the bestie, Boobies, so here it is ladies.
Kind of short one for this because I'm in a terrific mood... but I do have one...
FAWK YOU to....
My facebook creepers!!!!
*******
I hope everyone has a fabulous weekend! Coming up Monday I am going to show off what I got in the mail this week! Come back, you are going to want to see it and meet the girl that made it happen!