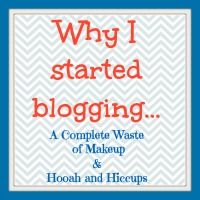 Blogging is different for everyone. Some want to make sure they capture their babies moments, some just want to keep in touch with long-distance family/friends.
Me? I blog because I like it. It's as simple as that.
I started off just for fun and it's remained that way. But what I never expected from it was to find the friendships that I have through it.
It has developed into a way for me to remember some precious moments in life, such as falling in love, and such as my engagement post and my upcoming wedding.
Blogging, to me, is the best.
I started for fun. I'm still having fun. I can't wait to see my future posts as a married Mrs. still having fun with my Mr!
Also, the next question in
Seven.
The things you're most afraid of.
-Any kind of bug. They completely gross me out. Icccck.
-Losing B. Like too early in life...
-Not being able to support my future family.
-The wedding day mishaps. I know it will happen, but whew...
-Going blind. legit.
-Never having a child.
-Failing as a wife.